Pratibha Moogi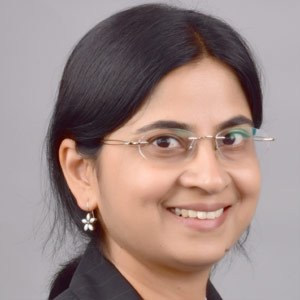 Pratibha Moogi holds PhD from OGI, School of Engineering, OHSU, Portland and Masters from IIT Kanpur. She has served SRI International lab and many R&D groups including Texas Instruments, Nokia, and Samsung. Currently she is serving as a Director in Data Science Group (DSG), in a leading B2B customer operation & journey analytics company, [24]7.ai. She is also actively involved in mentoring India-wide training initiatives, start-up setups working in the domain of ML and AI for strengthening local India eco-system. She has got 16+ years of industry experience working on diverse set of Multimedia processing and ML based technologies namely Speech & Audio Recognition, Fingerprint, IRIS Biometric, Computer Vision based solutions & use-case scenarios development. Her current interests are emerging fields of applying Machine Learning to interdisciplinary, cross domain areas e.g. Multichannel Data Sources based Predictive Analytics.
India Centric R&D efforts in artificial intelligence
India, a country of ~1.3 billion people, ~300 million smart phone users, ~600 million internet users are getting on to use and feel AI, ML flavored solutions every single day, more than ever – be it Intelligent Camera which can take picture when you give that perfect smile, beauty your face to an extent you can look beautiful , tagging your pictures based on what content, subject you tried capturing in some of yours perfect shots, hiding your gallery photos from intruders using your Fingerprint, IRIS, or Face biometric, fetching that very product details that you just spotted in a Mall, or something that your friend is having right now – empowered by Content(Image) based Information (Product) Search Algorithms. Speech & Language Technologies are redefining voice interface for Indian common users – who speaks 28+ odd local languages. Voice analytics solutions are empowering BPO (Customer Care) centers –whether it is routing of millions of calls using automatically detected Customer intents, or segregating calls using positive or negative customer Sentiments, or automatically generating Business Insights that can drive more profits, revenues, higher customer satisfaction scores – All powered by Predictive Analytics solutions. This talk covers some of the India Centric R&D efforts – experienced by me while working on variety of products, services, and solutions over last decade. Talk is organized as the following topics 1. AI/ML – Digital India – Context (Problems & Opportunities, GDP landscape, Start-ups scenario), 2. Products & Solutions – recent deployments, 3. Present R&D spectrum – Algorithmic research efforts 4. Overall learnings from Indian Market.
Her talk takes place on Friday, September 13, 2019.
Barbara Schuppler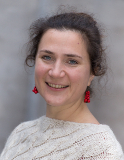 Barbara Schuppler (Signal Processing and Speech Communication Laboratory, Graz University of Technology, Austria) pursued her PhD research at Radboud Universiteit Nijmegen (The Netherlands) and at NTNU Trondheim (Norway) within the Marie Curie Research Training Network "Sound to Sense". The central topic of ther thesis was the analysis of conditions for variation in large conversational speech corpora using ASR technology. Currently, she is working on a FWF-funded Elise-Richter Grant entitled "Cross-layer prosodic models for conversational speech," and in October 2019 starts her follow up project "Cross-layer language models for conversational speech." Her research continues to be interdisciplinary; it includes the development of automatic tools for the study of prosodic variation, the study of reduction and phonetic detail in conversational speech and the integration of linguistic knowledge into ASR technology.
Automatic speech recognition for conversational speech, or: What we can learn from human talk in interaction
Her talk takes place on Thursday, October 31, 2019 at 13:00.
Torsten Sattler
Torsten Sattler received a PhD in Computer Science from RWTH Aachen University, Germany, in 2014 under the supervision of Prof. Bastian Leibe and Prof. Leif Kobbelt. In December 2013, he joined the Computer Vision and Geometry Group of Prof. Marc Pollefeys at ETH Zurich, Switzerland, where he currently is a senior researcher and Marc Pollefeys' deputy while Prof. Pollefeys is on leave from ETH. His research interests include (large-scale) image-based localization using Structure-from-Motion point clouds, real-time localization and SLAM on mobile devices and for robotics, 3D mapping, Augmented abd Virtual Reality, machine learning, (multi-view) stereo, image retrieval and efficient spatial verification, camera calibration and pose estimation. His current work focuses on making algorithms for localization and mapping "smarter" by incorporating higher-level scene understanding.
Torsten has worked on dense sensing for self-driving cars as part of the V-Charge project. He is currently involved in enabling semantic SLAM and re-localization for gardening robots (as part of the Trimbot2020 project, a EU Horizon 2020 project where he leads the efforts on a workpackage), research for Google's Tango project, where he leads CVG's research efforts, and in work on self-driving cars.
Torsten has organized multiple tutorials and workshops at CVPR and ICCV. He regularly serves as a reviewer for the top-conferences in Computer Vision (CVPR, ECCV, ICCV) and Robotics (IROS, ICRA) and is an area chair for CVPR 2018 and 3DV 2018. His talk takes place in POSTPONED.
Miloslav Druckmüller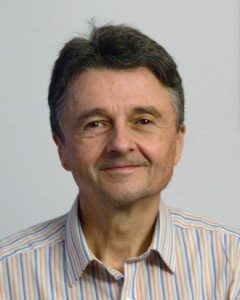 Miloslav Druckmüller is a Professor of Applied Mathematics at the Institute of mathematics, Faculty of Mechanical Engineering, Brno University of Technology and the head of the Department of Computer Graphics and Geometry. His main interests are numerical methods of image analysis, digital image processing, computer graphics and complex variable analysis. During the last 10 years he has been cooperating widely with the Institute for Astronomy, University of Hawaii in the field of solar coronal plasma research. He c
reated a large archive of K-corona (photospheric light scattered on free electrons) images and temperature maps based on Fe and Ni ions observing based on data obtained during total solar eclipses during last two decades. Nowadays his research is mainly focused on processing and analysis of data obtained by NASA SDO spacecraft. His talk takes place in POSTPONED.
Kevin Köser

Kevin Köser is a senior researcher at the GEOMAR Helmholtz Centre for Ocean Research, Kiel. His main research interest lies in novel camera-based measurement techniques for (deep) sea environments and processes (3D underwater vision). These help to study resources, to explore and monitor (deep) sea habitats or to assess hazards, e.g. with respect to gas flux or seafloor dynamics. In the past years Dr. Köser has taught the classes 3D Photography and Computer Vision Lab at the Swiss Federal Institute of Technology (ETH Zurich) and has worked as a senior researcher in ETH's Computer Vision and Geometry Lab on shape and motion extraction from photos and videos, geolocalization and image registration. POSTPONED.