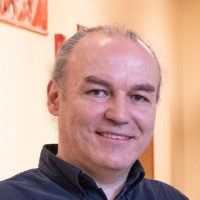 Jan Ullrich is the linguistic director of The Language Conservancy, an organization serving indigenous communities in projects of language documentation and revitalization. His main research interests are in morphosyntactic analyses, semantics, corpus linguistics, lexicography, and second language acquisition.
He holds a Ph.D. in linguistics from Heinrich-Heine-Universität in Düsseldorf. He has taught at Indiana University, University of North Dakota, Oglala Lakota College, and Sitting Bull College and has given lectures at a number of institutions in Europe and North America.
Ullrich has been committed to and worked in fieldwork documentation and analysis of endangered languages since 1992, primarily focusing on the Dakotan branch of the Siouan language family (e.g. Lakhota, Dakhota, Assiniboine, Stoney). His research represents highly innovative, and in parts groundbreaking, analysis of predication and modification in Lakhota. He is the author and co-author of a number of highly acclaimed publications, such as the New Lakota Dictionary and the Lakota Grammar Handbook.
Research on head-marking languages: its contribution to linguistic theory and implications for NLP and NLU
Some of the most widely used linguistic theories, and especially those which have been more or less unsuccessfully applied in computer parsing and NLP, are affected by three main problems: (a) they are largely based on the study of dependent-marking syntax, which means they ignore half of the world's languages, (b) they are syntacto-centric and mostly disregard semantics, and (c) they are not monostratal, but instead propose deep structures which cannot readily be accessed by statistically driven models and parsing algorithms.
This presentation will introduce a number of the broadly relevant theoretical concepts developed from the study of head-marking languages, such as Lakhóta (Siouan), and some of their implications for NLP and NLU. It will offer a brief introduction to the Role and Reference Grammar, a theory which connects structure and function by implementing a two-way linking algorithm between constituency-based structural analysis and semantics.
His talk will be held jointly as VGS-IT seminar and lecture of MTIa master course and takes place on Thursday, February 27th, 2020 at 12:00 in room E112.