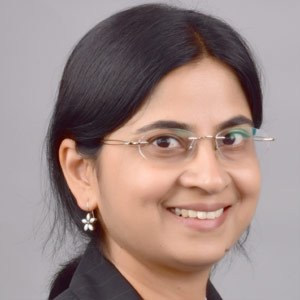 Pratibha Moogi holds PhD from OGI, School of Engineering, OHSU, Portland and Masters from IIT Kanpur. She has served SRI International lab and many R&D groups including Texas Instruments, Nokia, and Samsung. Currently she is serving as a Director in Data Science Group (DSG), in a leading B2B customer operation & journey analytics company, [24]7.ai. She is also actively involved in mentoring India-wide training initiatives, start-up setups working in the domain of ML and AI for strengthening local India eco-system. She has got 16+ years of industry experience working on diverse set of Multimedia processing and ML based technologies namely Speech & Audio Recognition, Fingerprint, IRIS Biometric, Computer Vision based solutions & use-case scenarios development. Her current interests are emerging fields of applying Machine Learning to interdisciplinary, cross domain areas e.g. Multichannel Data Sources based Predictive Analytics.
India Centric R&D efforts in artificial intelligence
India, a country of ~1.3 billion people, ~300 million smart phone users, ~600 million internet users are getting on to use and feel AI, ML flavored solutions every single day, more than ever – be it Intelligent Camera which can take picture when you give that perfect smile, beauty your face to an extent you can look beautiful , tagging your pictures based on what content, subject you tried capturing in some of yours perfect shots, hiding your gallery photos from intruders using your Fingerprint, IRIS, or Face biometric, fetching that very product details that you just spotted in a Mall, or something that your friend is having right now – empowered by Content(Image) based Information (Product) Search Algorithms. Speech & Language Technologies are redefining voice interface for Indian common users – who speaks 28+ odd local languages. Voice analytics solutions are empowering BPO (Customer Care) centers –whether it is routing of millions of calls using automatically detected Customer intents, or segregating calls using positive or negative customer Sentiments, or automatically generating Business Insights that can drive more profits, revenues, higher customer satisfaction scores – All powered by Predictive Analytics solutions. This talk covers some of the India Centric R&D efforts – experienced by me while working on variety of products, services, and solutions over last decade. Talk is organized as the following topics 1. AI/ML – Digital India – Context (Problems & Opportunities, GDP landscape, Start-ups scenario), 2. Products & Solutions – recent deployments, 3. Present R&D spectrum – Algorithmic research efforts 4. Overall learnings from Indian Market.
Her talk takes place on Friday, September 13, 2019 at 13:00 in room A112.